Q&A with Ali Heath
My 'Curate' Conversation – with Ali Heath. Includes my top five tips for successfully displaying your wallpaper collections in a home setting.
1.What is your background? I studied for a BA Surface Pattern & Textile design at Leeds College of Art and went straight on to do an MA Constructed Textiles at the royal College of Art. I have been a self-employed wallpaper maker ever since.
2.How did you get started as a wallpaper designer? I wanted to find a way to make my art useful. By making wallpaper I get to sneak my art into peoples homes. For me a wall is the perfect canvas and wallpaper the perfect medium.
3.Have you always had an affinity with wallpaper? As a teenager I was given the opportunity to decorate my bedroom. I chose a very colourful Laura Ashley floral wallpaper. I think that shows a certain degree of consideration and taste from a young age.
4.Describe your creative style?
Intuitive, freestyle, collage, often trompe l'oeil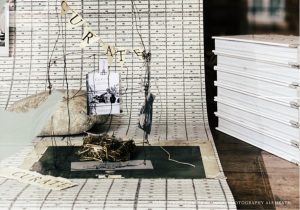 5.What inspired you to challenge preconceived wallpaper usage?
My MA gave me 2 years thinking time and the freedom to get stuck into exploring and challenging preconceived notions of decorating and decorating.
6.What was the inspiration for your first collection, Hooks and Frocks?
I felt very lost moving to London, a huge city compared to the small village I grew up in. I spent a lot of time photographing and arranging household objects, possessions and collections.  'Hooks & frocks' was conceived as inspiration for bespoke wallpapers. With hindsight I realise 'Hooks & Frocks' evidences my need to find home.
7.Did that pave the way for you to continue with designs that avoid pattern repeats?
I wouldn't say I avoid pattern repeat, pattern repeat has never been a consideration or intention pulling together images and pattern in the most affective way to decorate a wall is my main objective. 'Hooks & Frocks' was the start of this exploration.
8. You seem attracted to a monochrome colour palette – what appeals?
I find it easier to see and think in black and white. Without the complication of colour I can first find composition and form, then the hand colour is added a bit like the colour tinting of black and white photos.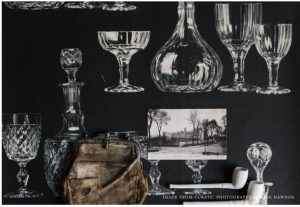 9.We are thrilled to include a few of your wallpaper collections as backdrops in Curate – each feels more like a work of art than a wallpaper. Is that intentional with your design? Do you have a favourite? Yes I consider every design in my wallpaper collections to be part of a large collection of artworks. My favourite ( at the moment ) is 'Memphis College' on' White Stripe ' from the Wallpaper Collage collection.
10.What is your design philosophy? Describe the design process?
To challenge preconceived ideas of decorating and decoration. By avoiding the limits of convention I strive to do things differently. My printing process is a testament to this, I invented my own unique way to print wallpaper.
11.Your wallpapers feature many collections of flora, fauna, clothes, household objects and furniture. Where has the inspiration for these designs come from? I am inspired by everyday objects and the things we collect and surround ourselves with.
12.Can customers visit your East Sussex studio by appointment?
Yes I am very happy to welcome visitors to my Print Room in East Sussex  by appointment.
13.How do most customers shop your collections – decorative art piece or full room covering? Some people begin with a single drop and add more pieces to their space over time others commit to a whole room in one go.
14.What triggers your creativity? A relaxed state of mind in flow.
15.What type of house do you live in? Describe your style at home?
I live on the 3rdand 4thfloor of  a rented townhouse with uninterrupted sea views from the bedroom , bathroom and kitchen sink. My home style is functional junkshop.
16.Is your home layered with your wallpaper collections? I have never owned my own walls so not had the opportunity to really experiment with wallpaper in my home. I guess that why I spend so much time doing it in other peoples homes!
17.Do you move your papers around a lot at home, or do they stay in one place? I spend a lot of time hanging, arranging and rearranging wallpapers in my print room it's a crucial part of my design process.
18.Outside of wallpapers are you a collector? If yes, what do you collect? What haven't I collected would probably be a quicker question to answer. I have collected so many things throughout my life. It started with my teeth!, pencils , rubbers, stickers and souvenir dolls. I now have collections of vintage drinking glasses, tea sets, postcards and I buy a sticker or a patch from the places I visit. I have a collection of vintage DIY books.  I could go on….shoes…
19.What's next with your business? I have been given an amazing opportunity to work with the pattern archive of a heritage pottery brand. I have almost finished my first collection with them which I hope will be launching early next year.
20. Top five tips for successfully displaying your wallpaper collections in a home setting?
1) Look at your whole space not just your walls, consider how your wallpaper piece will sit in the room amongst your furniture.
2) Trust your instincts, there is no right or wrong way to display my wallpapers.
3) If you don't want to paste up your wallpaper it can be framed or hung as a scroll.
4) If you don't have much space you could consider using a wallpaper border or one of my wallpaper cut outs.
5) Wallpaper is not just for walls! You can wallpaper your ceiling, stairs or the back of your bookshelf. The blog page of my website if full of DIY wallpapering tips.
To read more 'Curate' Conversations visit www.aliheath.co.uk
Posted on 27.9.21 at 7.06pm