March Press Coverage
DECO HOME – GERMANY (April 2022 )
Q & A for Deco Home Germany
Q. Were you familiar with Heirloom when you grew up?
A. Yes Hornsea Heirloom was part of the family. Both my parents and grandparents had a Heirloom dinner set in Lakeland green. Mums & dads was a wedding present it was our 'best' crockery which we used at Christmas and for special occasions.

Q. What does the cooperation mean to you personally?
A. The seaside town of Hornsea was local to where I lived growing up. For me Hornsea Pottery is a very familiar brand. To be able to work with their archive of amazing pattern feels like a responsibility I wish to respect and enjoy.
Q. Which design of the collection is your favorite?
A.Its difficult for me to choose a favourite design in this collection. The collection should be viewed as a whole. The designs are modular. They are made to be combined and pasted up in sequences to create larger scale patterns over your walls.
Q.Which paper are you using for your wallpaper?
A. Environmentally Friendly, Uncoated, unbleached, natural wall covering made from Pure Paper Pulp sourced from FSC or PEFC approved forests
Q. Is there any room / furniture / color / style that goes especially well with the collection?
A. I design wallpapers as artworks.I believe viewed as artworks they can be hung in any style or colour of room with any furniture.
Q. Which are the main design elements that you reimagined for the the collection?
A. I reused different parts from the linking pattern which makes up the original HEIRLOOM design. The way in which the pattern was placed on different pots created small breaks and shape variations in the overall pattern. It is these elements that I took to reimagine my own designs. 
Q. Do you create borders for every wallpaper design?
A. No, only when it makes creative and visual sense. I feel that the different elements of HEIRLOOM make for strong border designs.
Q. Which is the most challenging part when making wallpaper?
A. Leaving behind and narrowing down ideas, designs and colourways to come to a final decision about the collection.
ELLE DECO – UK (March 2022)
HOMES & INTERIORS SCOTLAND (March 2022)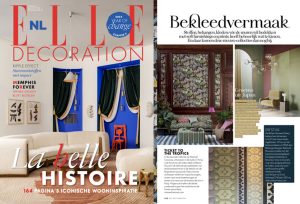 ELLE DECO – NETHERLANDS (March 2022)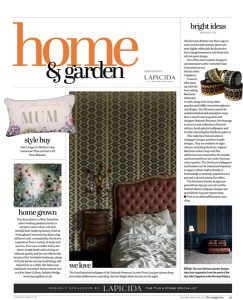 YORKSHIRE POST MAGAZINE – YORKSHIRE! (March 26/03/2022)
HULL DAILY MAIL  (FEB 27/ 2022)
THE ENGLISH HOME (Feb 21/2022 )
Posted under News on 4.4.22 at 4.40pm